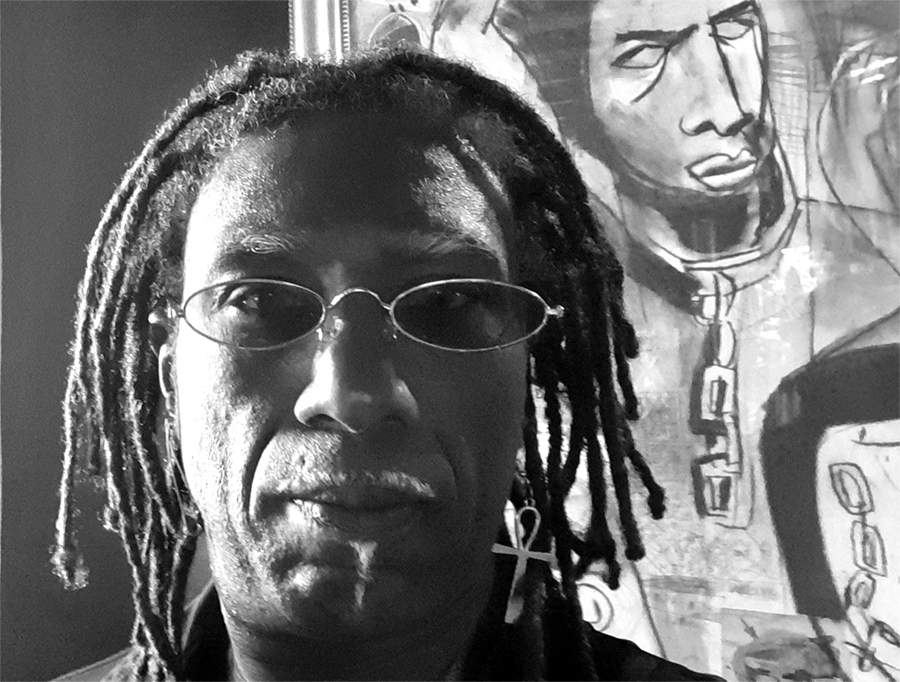 Darryl Montgomery
Co-Founder / Space to Connect Programming Associate
Darryl Montgomery [artist pseudonym Darryl Hell] is an arts educator who teaches media literacy and theater production. Having been raised in a family that was focused on community service and fighting for the rights of Black people, and growing up in Belmar, New Jersey that had a strong hippy influence of people returning from Vietnam, he found a synergy of culture, spirit, and purpose that has only intensified throughout his life.
He is primarily an arts mentor/educator, strategic consultant, veteran multi / mixed media artist & producer, musician, public park steward, documentarian, video producer, drone pilot, citizen journalist/writer, turntablist, artivist, community organizer, and theatrical technical director. Since the late 1970s, he has been an active and innovative component of the experimental underground music and art culture. Through his label Furnace Records, launched in San Francisco in 1992 by Kim Cascone, he signs experimental industrial bands/artists from around the world and manages a two-room virtual club named "Club Patience Zero." It has featured exclusive live and recorded performances and interviews with legendary and internationally recognized artists like Penny Arcade, Test Dept, Negativland, Genesis P. Orridge, Harry Allen, and Elizabeth Streb. The venue prides itself in also finding underground talent from around the world, featuring bands/artists like Vinyl -horror & -terror from Germany, Keiko Uenishi from Japan, and Muta-scuM from the UK.
As a first-generation punk rocker, Darryl made his mark in the early 1980s NYC Lower East Side music community in clubs like CBGBs, A7, The Pyramid, Danceteria, The Ritz, and The Great Guildersleeves to name a few. During this time he was also at the beginning of his BMX freestyle career. He did his last tour in 1992, ending his career in 1994. He used the lessons learned from developing advanced freestyle tricks and transformed that into a philosophy called, "The Evolution of Possible." His world-class freestyle riding became the philosophical underpinning of his mentoring and educational programs. The riding philosophy illustrated how something could be developed from an idea/concept that seemed impossible, yet could be brought to fruition through determination, analysis, effort, and patience. It also has greatly influenced how has he undertaken business and social betterment strategy development.
In the mid-1980s he focused his efforts on studying the intersections between innovative social betterment programs, technology, public space, and personal/community development. It was his artistic, organizational, and technical prowess that led him to join the chashama artist collective in 1998, which followed his featured participation in the last large-scale event [called "The Substation"] to happen in Andy Warhol's Warehouse #3.
From 2000 to 2002, he was the Director of Acquisition for Urban Box Office, led by ex-Motown president George Jackson, developing media strategies for people including Marion Jones, The Williams Sisters, Muhammad Ali, Harry Belafonte, and Sonia Braga. During that time he also worked as a strategic consultant for the Greater Harlem Chamber of Commerce. From 2003 to 2012, he was Internet Strategist for six-term Congresswoman Cynthia McKinney, with a Congressional win in 2004. It was there that he learned about how to address social issues with hyper-local targeted programs/projects that required tangibly positive results.
In 2004, when chashama transformed from a collective into a formal organization, he was able to bring the entirety of his experience and network to help cofound the organization. His work in arts real estate with chashama has enabled him to focus on strategically assisting others in realizing creative ideas/visions, and bringing them to fruition. Also in 2004, he began training for running mentoring programs and teaching specifically in the classrooms of communities that have been structurally under-resourced, which supplied him with over a decade of classroom management experience and curriculum development prior to having a class of his own.
2014 brought about the creation of The Hancock Community Backyard Garden Park, in Bed-Stuy, Brooklyn, NYC. Darryl took over the stewardship of a highly neglected GreenThumb community garden, having it formally redesignated as a public park. He redesigned the 4,000 square foot greenspace and led a small group of community members in its revitalization. After the first 3 years of development, the public park garnered recognition and awards from the Brooklyn Borough President's Office, The New York City Department of Records and Information Services, and The Mayor's Office. It was awarded the GreenThumb 2018 Community Engagement Award for his community-based redevelopment initiatives that took a once ramshackled community garden and transformed it into a first-class public park and flex community gathering and presentation space. He brought the park support from his network partners The Apollo Theater, Bailey's Cafe, Community Board 3 Arts and Culture Committee, The Micro Museum, Royal Rib House, The New York City Department of Records and Information Services, and The Harlem School of the Arts. Due to its tranquil environment and arts programming, it has become a haven for community members and tourists alike.
He currently teaches theater production and media literacy at the Bronx Academy of Letters [a public high school in the South Bronx] and is Programming Associate for the Space to Connect Chashama teaching Artist Incubator program.