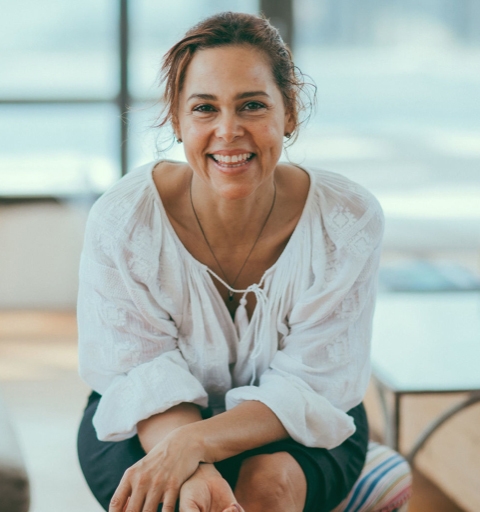 Amber Lasciak
Amber was raised on 60 acres in Northern California, between the Pacific Ocean and the redwoods. Raised with no electricity or TV in a small town of 250 people, who are still her family to this day. Amber was one of the few black kids in the entire county.
At 17 she moved South from her sheltered, bucolic life, to Santa Cruz, Ca. with her mother and younger brother, attending Santa Cruz High School (with a little more diversity) and later attending UCSC and Cabrillo College. She sadly did not learn to surf.
NY called. At 21, Amber packed a car with a dear friend and headed East to NYC, reuniting with the Brooklyn Jewish side of the family, to pursue her interest in film and theater. Taking classes at the Neighborhood Playhouse and the New School, Amber began her internship at the world-renowned Wooster Group, where she later performed with Nancey Reilly. For the next several years she worked in the downtown theater scene, where she first met and performed with the great Anita Durst. Amber worked with Maryanne Weems's The Builder's Association, The Blue Man Group and Annie-B Parsons to name a few. Simultaneously, she also began work in the film and commercial world, casting commercials and international ad-campaigns with the well-known casting agent Leslie Simitch.
Amber met Jonathan Demme in the downtown theater scene, purchased her first professional camera and started working as an assistant editor for Jonathan Demme's film company, Clinica Estetico. Later working and shooting on his documentaries about Haitian life and then later his blockbusters such as Philadelphia Story, Beloved, with Oprah Winfrey and the Truth About Charlie, in Paris. Therein started amber's career, where she shot and produced documentaries and TV for the next 15 years. Amber was blessed to work with many of the greats, such as; Sam Shepard, Sean Penn, Woody Harrelson, The Roots, Jay-Z and Beyonce, Rambin' Jack Elliot and spent 10 years working closely with the late rapper DMX.
Amber loved the film world, but had a deep desire to be part of a larger solution. She temporarily put the film and TV world aside to create her beloved company Redu. Inspired by her profound connection to mother earth from her early years in Northern California, she decided to turn her focus on the environment. With landfills at capacity in NYC, she saw an innovative way to keep usable materials out of landfill. Redu is a design/ build company that makes sustainable furniture and builds commercial and residential interiors from 99% re-use materials. Redu "rescues" scraps and so-called "waste" materials from the surrounding local businesses and dry-construction waste from the myriad construction sites around the
city. Building Redu and being part of the solution, has been the happiest days of her life.
Amber is thrilled to be uniting forces with her dear friend Anita and to serve on the board for Chashama, an undeniable solution and ode to creativity and the arts, that helps keeps the heart and soul of NYC intact.