We Speak Our Truth: Portraits of Mamahood
Kate Fauvell
We Speak Our Truth: Portraits of Mamahood is a group exhibition by six womxn identified artists who are mothers. Curated by Kate Fauvell, the exhibition features works by Las Hermanas Iglesias, Tabitha Soren, Jaishri Abichandani, Amanda Kates, Aimee Gilmore, and Kate Fauvell.
Kate Fauvell says "My vision began with wanting to make sure that powerhouse Artist Mama's were getting their work exhibited. Since having to survive the pandemic as a single Mother, my life and art have completely changed, and I'm not alone. The impact it has had on womxn identifying people who are mothers is clearly disproportionate. In the U.S. as of January 2021, 4,637,000 jobs were lost by womxn and 32 percent of those womxn said child care was the reason for that unemployment. (source: Bureau of Labour Statistics, as of Jan. 2021). Many of us have been facing extreme challenges of time management, as self-employed artists, some of us were forced to sacrifice our work completely, and others like the artist Mama's in this exhibition continued to find a way to do it all. What I found myself in search for creatively (and as a mother) is what I've looked for in pieces for the exhibition: a distinctive perspective on motherhood and the essential exploration in a mama's communication of their truth."
Tabitha Soren writes of her series Motherload on view in this exhibition, "This body of work aims to show the result of making creative aspirations part of a larger often messy whole that includes children. These pictures show what it looks like when one tries to live in the world of your art in progress and live with your children simultaneously."
The works in this exhibition from the six artists all share with viewers different elements of the unshared and unpredictable nature of motherhood.
About the Artists:
Kate Fauvell (b.NYC) is a contemporary artist. Kate constantly takes pictures as a means of understanding and documenting the world around us. She uses these images to create photo-based collage paintings. She cuts and tears photographs into pieces and these torn pieces replace a paintbrush as her primary drawing tool. Born in 1979, Kate has a BFA from Binghamton and an MFA from the Pennsylvania Academy of Fine Arts. Fauvell has had solo exhibitions at Binghamton University and Rush Arts Foundation. She has been included in exhibitions at The Painting Center, New York, NY; Spilt Milk Gallery, Scotland; Odetta Digital, New York, NY; Silvermine Galleries, New Canaan, CT; Google Headquarters, New York, NY, BRIC Arts, Brooklyn, NY; Ethan Cohen Gallery, Beacon, NY; Scope Art Fair, Miami, FL; among many others. She has been the recipient of the Pollock Krasner Grant, New York, NY; Anonymous Was a Woman Grant, New York, NY; the Artist Fellowship, New York, NY; Rauschenberg Foundation Grant, New York, NY a grant from the US Swiss Embassy, Zurich, Switzerland and more. She has done residencies around the world including at Mass MoCA and at PRGR in Bern, Switzerland. Fauvell is a single Mom to Matti who is 2 and lives and works in New York.
For more information about Kate and her work visit her website or follow her on Instagram.
Tabitha Soren was born in 1967 in San Antonio, Texas, and has lived in 7 U.S. states, Germany, and the Philippines during her formative and adolescent years. She received her degree in 1989 from New York University and was awarded a fellowship from Stanford University in 1997. Solo exhibitions of her work have been organized at Mills College Art Museum, Oakland, CA; Transformer Station, Cleveland, OH; The Davis Museum, Wellesley, MA; Museum of Contemporary Art, Indianapolis, IN; Oakland Museum of California, and others. Select group exhibitions include Pier 24 Photography, San Francisco, CA; The Worcester Art Museum, MA; Fraenkel Gallery, San Francisco, CA; Aperture Gallery, New York, NY; Berkeley Art Museum and Pacific Film Archive, CA; Dorsky Gallery, New York, NY; Amarillo Museum of Art, Amarillo, TX; Weisman Art Museum, Minneapolis, MN; The Photographers Gallery, London, UK; the New Orleans Museum of Art, LA; and the Ogden Museum of Art, New Orleans, LA. Soren has been a visual artist in different domains for over twenty-five years, exploring the intersection of psychology, culture, politics, and the body. Her mediated images examine the vulnerabilities we all carry and provide the outline for a narrative still endlessly unfolding. Whether capturing solitary individuals running through empty streets, harnessing the sublime power of the natural world, or obscuring violent scenes with a dense application of ink and resin, Soren calls forth the underlying and pervasive energy that propels a twist of fate, upends a story, and challenges a belief. She never lets the viewer forget that there is something looming just outside of the frame – maybe a threat, a dashed hope, an unfair assumption, or an impending change in fortune- that deserves respect and consideration.
For more information about Tabitha visit her website or follow her on Instagram.
Las Hermanas Iglesias is a project-based collaboration by two sisters, incorporating a variety of relationships and structures for collectivity. The artists maintain both collaborative and independent studio practices.  Lisa Iglesias grounds her individual work in drawing and painting across a variety of materials and processes.  Janelle Iglesias works with and through objects to create sculpture and installation. 
Their collaborative projects have been exhibited at El Museo del Barrio, Queens Museum, Abrons Art Center, ASU Art Museum, NMSU Art Museum, The Utah Museum of Fine Arts, and others. As a team, the artists have been in residence at LMCC's Paris program (France), Fanoon: Center for Print Research at VCUQ (Qatar), The New Roots Foundation (Guatemala), and the Textile Arts Center (US). Las Hermanas Iglesias's work has been featured in the New York Times, the Huffington Post, and Bombmagazine.com, and supported by the Queens Council for the Arts, NYFA, and The National Association of Latino Arts and Cultures. Janelle is an assistant professor at the University of California San Diego, Lisa is an associate professor at Mount Holyoke College. 
For more information about Las Hermanas Iglesias visit their website or follow them on Instagram.
Jaishri Abichandani was born in 1969 in Bombay, India, and immigrated to New York City in 1984. Abichandani founded the South Asian Women's Creative Collective, in New York (1997 – 2013) and London (2004); dedicating sixteen years to creating spaces for feminist artistic production. Abichandani has exhibited her work internationally including at MoMA P.S.1; the Queens Museum, the Asia Society, the IVAM in Valencia, House of World Cultures in Berlin, etc. Abichandani's work encompasses creating objects, exhibitions, and culture. She received her MFA from Goldsmiths College, University of London. Jaishri served as the Founding Director of Public Events and Projects from 2003-6 at the Queens Museum where she connected the museum to local communities and organized exhibitions. In 2017 Abichandani engineered a collaboration between the Smithsonian Asian Pacific American Center, the Asia Society, and the Queens Museum to organize a three-day national convening of South Asian American artists, academics, and curators; along with the exhibition Lucid Dreams and Distant Visions. Later in 2017, her silent #metoo protest outside her rapist Raghubir Singh's exhibition at the Met Breuer spurred international actions and exhibitions about sexual violence.
Abichandani organized a trilogy of exhibitions to inaugurate the Ford Foundation Gallery in 2019. Perilous Bodies, Radical Love, and Utopian Imagination centered the visions of BIPoC artists to critical acclaim with 22,000 attendees. Abichandanis work is in the Burger Collection and the Asia Art Archive Collection. She has been a resident of LMCCs Process Space residency, honored by the Brooklyn Arts Council, and received awards from Enfoco, the Foundation for Contemporary Art, and FST Studio Projects.
For more information about Jaishiri visit her website or follow them on Instagram.
Aimee Gilmore is a multi-disciplinary artist based out of Philadelphia, PA. She holds a Masters in Fine Arts from the University of Pennsylvania, and a Bachelors degree in Fine Arts with a minor in textile design from Moore College of Art & Design. Aimee works in sculpture, installation, and printmaking and explores the topic of motherhood focusing on the continuously shifting and complex binaries that shape the role. She has completed residencies at The Fabric Workshop and Museum, The Vermont Studio Center, The Wassaic Project, and Project for Empty Space.
For more information about Aimee visit her website or follow her on Instagram.
Amanda Kates is an artist based in Washington DC. She makes her mixed media drawings and paintings in a tiny bedroom studio that she requisitioned from her two-year-old daughter. Amanda has exhibited her work throughout the United States, including several solo, and two-person exhibitions. She holds an MFA from SUNY Albany and a BFA from Binghamton University.
For more information about Amanda visit her website or follow her on Instagram.
This exhibition was made possible with the support of City Artist Corps Grant.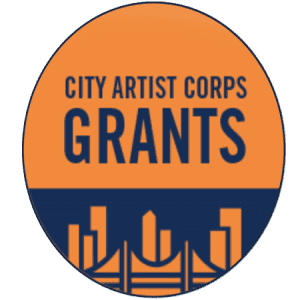 Image credit: Amanda Kates, Doom Scroll, 14 x 10in, colored pencils and gouache on paper, 2021.