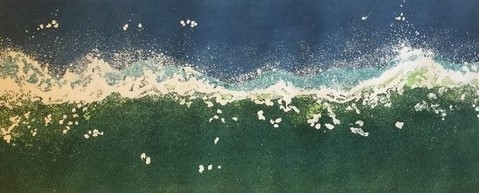 Waves: A Moment in Time
LG Brosterman
In her latest series, Waves: A Moment in Time, LG Brosterman explores the power and beauty of the ocean through the abstract forms created by waves as they crash. With each piece, she tries to capture the perfect randomness of the never ending, eternal, action of the ocean. Using 20-30 layers of paint, and the ironically precise placement of every color, splash and droplet, her abstract expressions remind us of the awe-inspiring, infinite artistry of one of the great natural phenomenon. Each of LG's paintings utilize a range of different techniques and mixed media, including watercolor, acrylic, and gouache. The finished work treats the viewer to a cohesive, unique vision of the majesty of the subject. A millisecond of pure energy is preserved for all time.
Artist Bio
LG Brosterman lives and works in Tribeca, New York. She is a member of New York Artists Equity, the Catherine Lorillard Wolfe Art Club, and the Art Student League of New York. Her work has been shown in solo and group juried shows and other venues.
For more information about the artist visit her website at  www.lgbrosterman.com
Contact LG Brosterman at lgbrosterman@gmail.com
Open hours
Public Space
Monday:
8AM - 7PM
Tuesday:
8AM - 7PM
Wednesday:
8AM - 7PM
Thursday:
8AM - 7PM
Friday:
8AM - 7PM
Saturday:
CLOSED
Sunday:
CLOSED