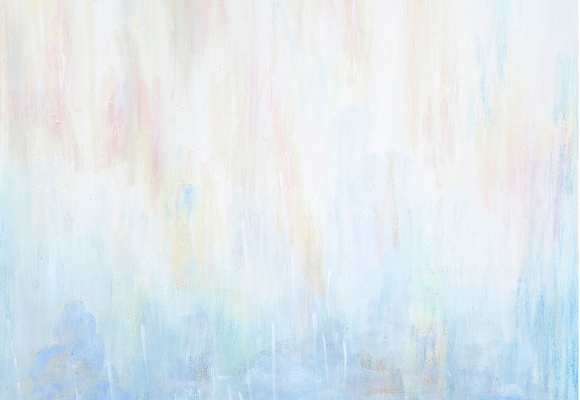 Sun Through Rainfall
Madeleine Schachter
Madeleine Schachter's art traverses a journey to lightness, comprised of subtle palettes imbued with glints of gilded tones. Each piece implies movement, infused with buoyancy and sensation that diverges from a language of pragmatism and precision, and uses tilt and tinge to evoke a sense of hope. Suggestive abstraction endows the viewer with prospect and possibility, entrusting that implication will arouse contemplation to enable unique flights into self-reflection and sentiment.  She works in mixed media, including pastels, watercolors, acrylics, metal leaf, and glass crystals, and she employs unusual materials, such as mascara.
About the Artist
Ms. Schachter has been trained by ASTEP (Artists Striving to End Poverty), a partner of the International Rescue Committee, in techniques in art therapy.  She collaborates with ASTEP, New York Cares, Art of Hope, and ChaShaMa to use art to empower and engage people in transitional housing, survivors of domestic violence, refugees, children with autism spectrum disorders, and healthcare staff.
In addition to her work as an artist, Ms. Schachter is an Assistant Professor at Weill Cornell Medicine, where she has been teaching Medical Ethics and Advanced Clinical Ethics. She also serves on an Institutional Review Board, where she reviews biomedical research on human subjects relating to cancer and relating to global health initiatives. She is a member of the Ethics Committee of New York Presbyterian Hospital. In addition, she teaches Bioethics at the Albert Einstein College of Medicine, from which she received letters of commendation for her teaching.
She is a New York State certified Emergency Medical Technician and has also been certified in training on incident management and command systems and hazardous materials by FEMA, in hostile environment awareness training, concussion training for youth sports coaches, and by the Collaborative Institution Training Initiative.
Previously, she practiced law for 30 years, most recently as Partner/Global Director of Corporate Social Responsibility at the international law firm Baker & McKenzie, where she worked exclusively on global pro bono and community service, diversity and inclusion, and sustainability matters with the firm's 4000 lawyers based in more than 40 countries.
Ms. Schachter developed a global corporate social responsibility platform for public-private partnerships that focuses on humanitarian and health issues to address global poverty through demand-driven innovation. She is the author of the book Global Social Investment: A Practical Handbook for Corporate Social Responsibility Programs, which covers the theories and practice, pragmatic approaches, and methodological tools for impact measurement.
She is the author of three other books: Law of Internet Speech, Informational and Decisional Privacy, and The Law Professor's Handbook: A Practical Guide to Teaching Law. Her work has also been published in legal and medical journals and treatises, including on global biomedical and legal ethics. While working full-time, she also served as an Adjunct Professor at Fordham Law School for a decade, teaching JD and LLM candidates courses on Internet speech, privacy, and media law.
Ms. Schachter serves on the Boards of Directors of Concern Worldwide US, which works with the world's most vulnerable people in more than two dozen countries; and the International NGO Safety and Security Association, a non-profit that works to improve the quality and effectiveness of safety and security for humanitarian relief and development assistance workers operating in dangerous environments.
She is a Phi Beta Kappa, Summa Cum Laude graduate of the University of Pennsylvania, from which she received a BA in Medical Ethics (a major she designed, the first of its kind in any higher academic institution) and Political Science. She received her JD degree from New York University School of Law, where she was a Root Tilden Scholar.  She has studied classical ballet as a tutorial student for a decade.
The artist is currently also exhibiting at the Museum of Russian Art, and has upcoming exhibits scheduled for the Hamptons, Soho, New York City, Paris, Vienna, Marbella, and Shanghai.  For more information, please visit https://www.madeleineschachterarts.com, e-mail MadeleineSchachterArts@gmail.com and connect with the artist on Instagram @MadeleineSchachterArts.