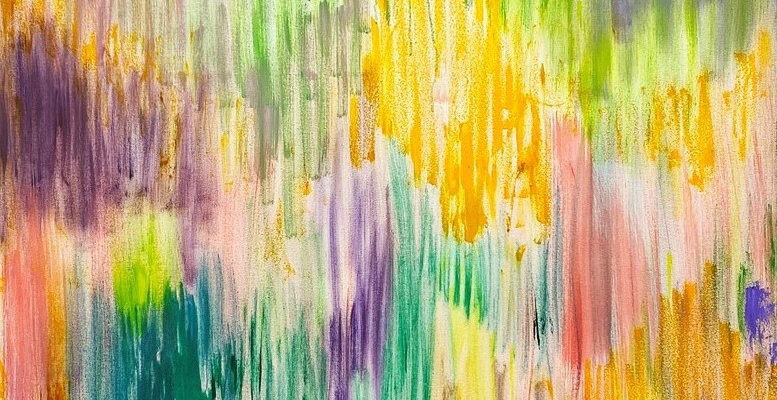 Peeling Back the Layers
Francine Hsu Davis
Peeling Back the Layers is the first in a series of paintings created during the pandemic by artist Francine Hsu Davis.
Francine's paintings previously focused on memory and history, expressed through heavily layered paintings.  With our present experiences of lockdowns, this concept of the building-up of layers has shifted to the peeling back of layers.  There is a wide array of experiences during quarantine, but for many, the shift in home life is most significant: for some, the current experience is isolation, while for others it is overwhelming proximity with the same people day in and day out.  Unable to go to the doctor, dentist, salon, barber, and other places of self-care, many of our roots have been let to grow and our truths very present and uncovered.  Francine's current paintings play on this new reality; they are the marks you would find underneath.  These paintings represent that gaining of experience through life, travel, and learning, and then drawing from that experience to make marks on the canvas.
About the Artist:
Francine Hsu Davis was born and raised in NYC. As a commuter most of her young adult life, she was captivated by the graffiti along the NYC subway line, as well as the Greek and Roman wing of the Metropolitan Museum of Art. Having attended programs at Cooper Union and F.I.T in high school, the continuous pull towards art led her to take elective studio art and art history courses while earning her undergraduate degree at Barnard College. With a Masters in Architecture from the Yale School of Architecture and a decade-long career as an architect, she uprooted her family and moved to Taipei, Taiwan to learn about the culture of her familial roots. In addition to teaching art and architectural design there, she worked on her 100 Days of Taipei project where she went out daily and sketched and painted the city (e.g. a building, a meal, people) and getting to know the people through urban sketching related interactions. Her time abroad has led to many series of paintings where memory, culture and architecture are intertwined. Francine has exhibited in San Francisco, the East Bay, and NYC. In 2019, she was a resident at the Vermont Studio Center and has since been published in Create! Magazine.
For more information about Francine visit her website here, or follow her on Instagram.

THE ARTBOX at GALERIE is a window space for lobby installations at the base of a new condominium development in Long Island City, directly across the street from MoMA PS1.