Ora Serrata: The Boundary Between the Retina and the Ciliary Body
Ora Serrata: The Boundary Between the Retina and the Ciliary Body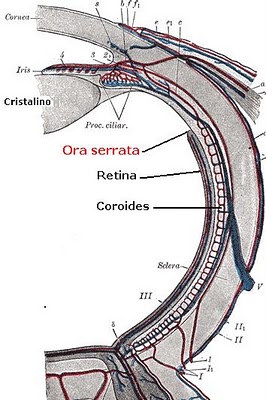 By Lea Cetera, Alexandra Lerman, Laura Miller
chashama 461 Gallery
461 West 126th Street
(between Amsterdam and Morningside)
New York, NY

Part of the Harlem Art Factory Fest (HAFF) 2013
Open to the public:
October 12-13, Noon-6pm
Screening/Performances: Oct 12-13 4-6pm
*By appointment: October 14-October 27th, 2013
Ora Serrata: The Boundary Between the Retina and the Ciliary Body is a new group exhibit featuring the works of Lea Cetera, Alexandra Lerman and Laura Miller. As a part of chashama's Harlem Art Factory Fest, a weekend of art, installations, performances and open studios, the exhibit will be open from Noon to 6pm.
October 12:
Performances: (about 30-40min)
Jesus Benavente, (R.A.F. (on-going))
Screening:
Ronnie Bass: Our land, 2006, 9:00 min
Matt Taber and Meryl Bennett: What's on T.V.?, 2013, 5:23 min
Mike Crane: Feedback Action Program, 2013, 3:16 min (trailer)
Gabriel Abrantes: Ornithes, 2012, 17:45 min
Alice Theobald: And This Memory, 2012, 8:37 min
Casey Li Brander: Terror Taco, 2012, 1:11 min
Jordan Rathus: I'm Happy for You, 2013, 1:37 min
Ernst Fischer: Weekend, 2012 3:00, min
Shelly Silver: Getting In, 1989, 3:00
Daniela Di Donato: Eclipse, 2013 2:00, min
Ivy Haldeman: Blind Spots, 2012, 7:13, min
Jessie Stead: You Are Now Running on Reserve Battery Power, 2011, 12:14 min
October 13:
Performances: (about 30-40min)
Nat Ward, Bill Santen and Rory Parks, Ian Warren, Tracy Molis
Screening:
Elizabeth Orr: Bernie, Circular Track, 2013, 5:00 min
Molly Lowe: Love, 2013, 6:46 min
Edward Thomasson: Inside, 2012, 14:03 min
Jeremy Couillard: Cool, 2013, 5:28 min
Amanda Alfieri: Still I Rise, 2012, 9:58 min
Molly Surno: Glock, 2013, 2:43 min
Michael Mallis: Gold Standard Stockpile, 2013, 1:50 min
Jon Kessler: Global Village Idiot Press Conference, 2013, 15:00
Cassandra Guan: The Baroness Elsa von Freytag-Loringhoven accosts a gentleman stroller on Horatio Street, 2013, 1:06
Bruno Pogačnik Wukodrakula: Cyberzombie, 2012, 5:13
featured videos:
Trisha Baga: OTHER GRAVITY, 2013, 25:00 min (3D video)
Ben Bigelow: Ellipses, 2012, loop (large wall projection no audio)
Ryan Garrett: Wildman, 2013 slideshow loop (no audio)
After the opening weekend, the exhibit will be open by appointment only until October 27th. To visit show outside of public hours, please contact Laura Miller at lauralindamiller@gmail.com, Lea Cetera at leacetera@gmail.com, or Alexandra Lerman at alexandra.lerman@gmail.com.
The evenings will have screenings and performances by time­based artists who all share a relationship to the body and performance in their work, featuring videos by: Gabriel Abrantes, Trisha Baga, Ronnie Bass, Casey Brander, Ben Bigelow, Mike Crane, Jeremy Couillard, Daniela Di Donato, Matt Taber and Meryl Bennett, Bruno Pogacnik, Ernst Fischer, Ryan Garrett, Ivy Haldeman, Jon Kessler, Molly Lowe, Tracy Molis, Michael Mallis, Elizabeth Orr, Jordan Rathus, Rachel Rose, Shelly Silver, Jessie Stead, Alice Theobald, Edward Thomasson and performances by Amanda Alfieri, Jesus Benavente, Ian Warren, R.A.F., Nat Ward, and Bill Santen and Rory Parks.
Lea Cetera, Alexandra Lerman and Laura Miller present works orienting sculptural forms of abstraction along digital vertices of the human form. Each artist is inspired by futuristic technical instruments­­­ holography, ipads, and PowerPoint presentations. In Cetera's work, the 3D recording of a performance occurs within a transmission hologram that is only visible via laser beam, alongside projected light passing through a balanced structure of steel, clear resin, and clear vinyl soft forms. Lerman's linguistic clay tablets utilize the patented and copyrighted system of touchscreen gestures as raw material for producing paintings, drawings and sculptures reminiscent of cuneiform. Miller's sculptures and PowerPoint animations, like coral colonies, attempt to live forever by remaining in the process of simultaneously building up and falling down. In her additional curated screenings of works by time­based video and performance artists, Cetera turns to show us another facet of the relationship between the body and technology, featuring works by artists that deal with expanding perceptions of the body, narrative and performance in contemporary culture.
For more info about the artists, check out their websites below:
www.leacetera.com
www.alexandralerman.com
www.llmiller.org