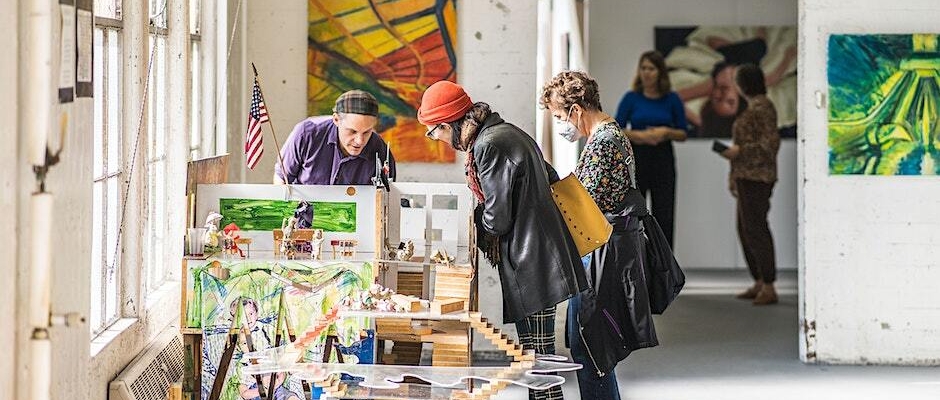 Open Studios at Brooklyn Army Terminal 2023
Chashama
Explore the studios of 100 local artists at the iconic Brooklyn Army Terminal. Meet the artists, purchase original pieces, and get inspired!
Free and open to the public.
RSVPs are encouraged but not required. See event link for free tickets, additional info, directions, and maps.
Presented as part of Sunset Park Open Studios, alongside Makerspace NYC and BioBAT Art Space.
Participating Artists:
Johanna Aenderl Ryan, Desmond Beach, Stephanie Beck, Leola Bermanzohn, Alberte Bernier, Sally Boon Matthews, Jennie Booth, Katya Borkov, Richard Burrows, Meiling Chen, Wendy Cohen, Stephanie Corne, Alicia Degener, Melissa Eder, Nancy Elsamanoudi, Nicholas Fraser, Brooks Frederick, Howard Gladstone, Suzanne Goldenberg, Dalit Gurevich, Whit Harris, Kareem Hayes, Chemin Hsiao, Sophia A Kayafas, Ji Yong Kim, Songyi Kim, Kostas Kiritsis, Pamela Lawton, So Hyung Lee, Geuryung Lee, Chandle Lee, Linda Lee Nicholas, Candace Leslie, Danny Licul, Lynn Liebert, Miranda Maher, Joe Major, Susan Malfa, CJ Mazzalupo, Michael McCarthy, Pat McQuade, Stephanie D Norberg, Caleb Nussear, Sheryl Oppenheim, Mitch Patrick, Dan Quigley, Dean Radinovsky, Kristin Reed, Berto Rey, Alex Romania, James Rose, Barry Rosenthal, David Sainte, Jesse Scaturro, Wade Schaming, Laura Stein, Eric Strauss, Polina Tereshina, Anh Thuy Nguyen, Michael Watson, Townsend West, James Wilson, Noah Xifr, Brian Zegeer, Steve Zolin
About Chashama: 
Since 1995, Chashama has transformed unused space into hubs of creativity for artists, community-centric art classes, and small businesses.
Learn more at our website: www.chashama.org
Follow us on Instagram: @chashama