vision42
The Durst Organization
&
chashama
present the 4 semi-finalists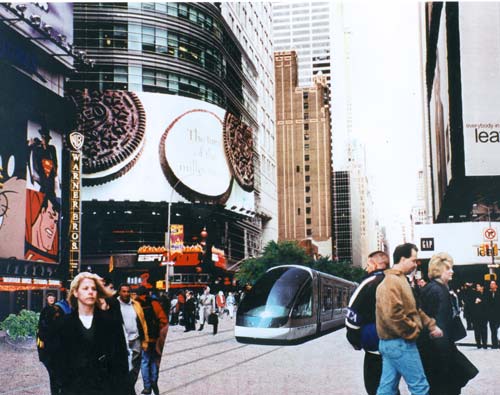 for
vision42
An international design competition of proposals for a river-to-river auto-free light rail boulevard on Manhattan's 42nd Street.
November 17, 2014 - January 5, 2015
RECEPTION FOR THE WINNERS
Tuesday, November 18, 6-8pm
The Lobby Gallery of 4 Times Square
(42nd Street between Broadway and Avenue of the Americas)
Open Monday-Friday, 8am-7pm
Join The Durst Organization and chashama in celebrating the four semi-finalists of the vision42 international design competition in which participants have been encouraged to create designs that will enhance the pedestrian ambiance and mobility of 42nd Street.
The competition is intended to spur architects, planners, and urban designers from around the world to develop creative proposals for remaking this important but noisy, traffic-clogged street into a world-class pedestrian environment and public space that is served by a high-quality, low-floor, modern surface light rail tram. The winning designs utilize the potential of the boulevard to inspire New Yorkers and the city's elected officials to transform the street into a model for a 21st century live/work space and important public transportation corridor.
INFORMATION

Janusz Jaworski, Curator
212.391.8151
The Architect's Newspaper
William Menking, Editor-in-Chief
212.966.0630
vision42 (www.vision42.org) is a citizens' initiative hosted by the Institute for Rational Urban Mobility, Inc. (IRUM)
George Haikalis, President
info@vision42.org
The Durst Organization
maintains a continuing program of support for the arts. By providing venues for exhibition in the lobbies of our buildings we hope to increase the presence of fine art and contribute to the cultural richness of the City.