Detritus
Detritus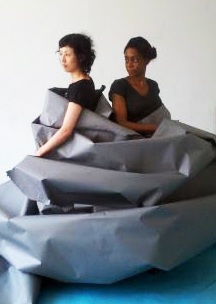 by Racoco Productions
as a part of the
2014 Summer Performance Series
June 21 – 23, 2014
Saturday, June 21, performance at 3 pm
*installation open 3 - 8 pm
Sunday, June 22, performances at 3 pm, 6 pm
*installation open 12 - 8 pm
Monday, June 23, performance at 8 pm
*installation open 10 am - 9 pm
chashama 1351
1351 Amsterdam Avenue
New york, NY
Racoco Productions, in collaboration with visual artist Stephanie Beck and musician Lynn Wright, presents
Detritus
, a series of performances and art installations created and destroyed over three days at 1351 Amsterdam Avenue as part of chashama's Summer Performance Series 2014.
Beginning in an empty gallery, a series of performances with rolls of photographic backdrop paper slowly transform the space into an elaborate paper environment. Detritus is inspired by ideas of shifting landscapes, including geological modes such as plate tectonics, glacial growth and retreat and the resulting formation of mountains and valleys, as well as human territorial exploration and "development," which sculpts and often destroys the natural landscape.
Performances last approximately 25 minutes and incorporate a transparent process of creativity, spontaneity, and improvisation. Construction and modification of the installation continue to occur during open gallery hours. Walk by the window, come inside to explore the installation, and stay for a performance!
About the Artists
:
Rachel Cohen has been choreographing and performing in New York City since 1997, and created Racoco Productions in 2003. She graduated from Harvard University with a degree in Performance as Communication. She has performed with Olek, Julie Atlas Muz, SHUA Group, Ariane Anthony + Company, Mary Anthony Dance Theater, Christopher Caines Dancers, Le Minh Tam, and Theodora Skipitares, among others, and on television on The Montel Show.
www.racoco.org
Stephanie Beck is a visual artist playing with ideas of architecture and constructed space through cut paper sculptures, installations, and public art events Stephanie has an MFA from the Pennsylvania Academy of the Fine Arts and a BA from the University of Virginia. Her work has been exhibited in New York, Paris, Philadelphia, and Istanbul. Stephanie has participated in artist residencies in New York, NY, Fort Collins, CO, and Istanbul, Turkey. She was a recent recipient of an Emergency Grant from the Foundation for Contemporary Arts and a Joan Mitchell Foundation MFA Grant.
www.stephaniebeck.org
Lynn Wright is a composer, songwriter, producer and instrumentalist based in Brooklyn, New York. His work encompasses a multi-disciplined range of film, dance, theater, art installations, and improvised performances. His recent pieces include "Please, Wait" and "Monologue" for Victoria Miguel's play Lauqueria, which will premier at the 2013 Edinburgh Festival Fringe and sound for visual artist Matthew Lusk's installation More Broken Glass Than There Was Window at the Zieher Smith Gallery in New York.
https://myspace.com/andthewiremen
Masumi Kishimoto is a native of Tokyo, Japan, who moved to New York City and entered the intensive training at the Ailey School and graduated from its certificate program. Since then, she has choreographed pieces that combine Classical Mime, Physical Comedy and Dance for performances at the Puffin Room, Movement Research at Judson Church, Studio b.p.m., Theater for the New City and The Ailey Studio Theater, etc. She also performed mime with Gregg Goldston in a five-member ensemble pieces. As a dancer, she worked with Ayako Kurakake, Asami Morita and Nichole Arvin, Yana Schnitzler, Daria Fain in NY, Pennsylvania, Germany and Japan_. Recently she worked as a movement designer with "Crane Story". She is an Artist-in-Residence at Center for Remembering & Sharing in NYC. She joined Racoco Productions in 2010.
http://masumikishimoto.com/home